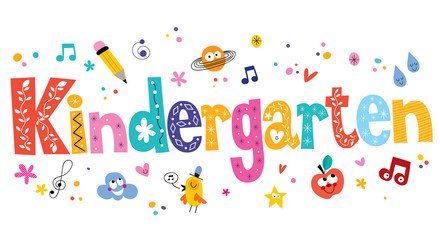 Here is a Kindergarten Agenda.  Please realize, this is what *I* teach my kids…if they do not master a concept, we do it until they do, regardless of if they are in K or in 12th grade.  I have many kids with learning disabilities, so keep that in mind also.
Sight Words (Dolch word list)
Bob Books, beginning readers
Calendar and weather
Simple math (addition, subtraction)
Learning about different cultures (food, clothes, houses, family)
Community helpers (adding in field trips to those places)
Animal habitats (adding in field trips)
Continuing with rhyming
Reading poetry and writing poetry
Journaling… the topic of the day (Prompts)
LOTS of reading
Basic spelling (Fry word list)
Creating sentences
Story Writing
Basic grammar beginning (noun, verb, adjective, conjunction, article)
Beginning punctuation
Tangrams
Counting up to 500 or above
Telling time
Leaf collections and learning about different types of trees
Continuing on our rote memorization from Preschool
Audiobooks
This is a simple Kindergarten Agenda that you can go by in order to help prepare your child.  It is a simple list that can definitely be added to or some things have taken off.  Depending on the child is what I add to this already good list of things to teach.
Related Posts:
Homeschooling a Child with Dyslexia